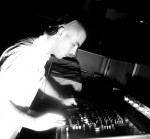 First published in Wax magazine.
Since forming at the tail end of 1996, True Playaz has remained at the forefront of club orientated drum and bass music. Each of the twenty or so releases from core producers Hype, Pascal and Zinc has advanced the music in some way, keeping the label one step ahead of its contemporaries.
The latest offering from Zinc, the 'Beats By Design EP,' brings seven new tracks and a remix from Danny Breaks – with the EP defined by precise break programming, acrobatic null lines and a range of cavernous atmospheres.
An elaborate DJ'ing schedule interspersed with studio work made it difficult to track Zinc down, Kingsley Marshall finally making the connection between Zinc returning from a residency at Direct Drive in New York and travelling from London to a club date in Exeter.
Zinc first got involved in drum & bass as a DJ in the early nineties, and was in fact resident at the now legendary Desire for over two years before making the step into the studio. Although his early material on the Brain Progression imprint was well received, it was the success of 'Super Sharp Shooter' on Ganja and 'Six Million Ways' on Frontline that really brought him to the attention of the masses.
He explains how True Playaz came to fruition. "Hype had been encouraging me to put a label together for some time, to give me more control over my releases. I remember thinking at the time that I didn't really have everything a person needed to a label though there were certain things that Hype and Pascal could do that I wasn't able to and vice versa, so we decided to start a label between the three of us."
Although many people had advised Hype against setting up a label external to his own phenomenally successful Ganja Kru, True Playaz proved itself within its first release – Hype's 'Peace, Love and Unity' selling fifteen thousand copies and reaffirming the trio's belief that they had made the right decision.
One of the labels strengths is that all three people are involved on every level, writing the material as well as working on the releases and promoting the label. Zinc explains their roles: "Pascal and myself both take care of the donkeywork, dealing with all the administration while Hype just sits up at the Playaz mansion."
Hype interrupts, laughing: "I take all the pressure, running a label's like having four kids!"
Laughing, Zinc continues: "Maybe its not quite as I described it. As Hype is so concerned with maintaining a certain level of quality, he acts as the A&R, deciding what we release and on what format. That's good for me, because it keeps it keeps any pressure off and I don't have to worry too much – I if write a track which meets the standard then it gets released and if it doesn't, it gets scrapped. Aside from that side of things, we're all equal partners though Hype will take responsibility if anything goes wrong – which is cool."
They claim that their success is through an elusive quality, difficult to pinpoint when all three producers are so entrenched in the day to day of the label, as Zinc explains: "Although a lot of people say that they can recognise a True Playaz release, I wouldn't necessarily say that we have a different sound. We just keep doing what we're doing, avoiding getting caught up in the politics of the scene and trying not to deviate from our original intentions for the label. I guess if pushed, the main distinction within the music would be that we've kept the breaks prominent while a lot of other people have got on with that two step stuff or whatever. We certainly haven't got any special techniques or anything else that no one else knows about, I just think that primarily we've remained consistent because Hype is so critical and won't let anything that he feels is substandard go out."
Hype adds: " I don't really think that it's for anyone else to judge, we just put out what we feel is good if people like it all the better."
The establishment of the Global Thang imprint last year allowed another outlet for the crew, albeit very low key, with Volume numbers as opposed to titles and no artist information. "We started Global Thang as a place where we could release tracks that we didn't feel were right for Playaz," says Zinc. "The releases have been a mixture of Hype and myself as well as a few other producers but there has been no set agenda it's just a way of getting material out on the downlow. With True Playaz we follow a certain pattern with dubplates and its very rare that things are recorded and then released straight away but Global gave us that option if we wanted to do that."
So to Zinc's latest project for True Playaz, the 'Beats By Design EP,' which captures eight tracks to the vinyl supported by a CD boasting highlights from the back catalogue. Despite a number of key labels making the transition to extended players, Zinc denies that this was a conscious move for the label. "It wasn't really a planned move, I just had these tracks and wanted to get them all out as opposed to releasing them as twelves over the next eight years or something!"
Hype elaborates: "I think the key reason that labels are moving to EP's is because drum & bass artists are getting better at producing, so have more tracks though only the same amount of time to release them in. It's good for the scene, both in terms of giving the artists an opportunity to show off quite what they are capable of as well as being better value for the people who buy records. "
Zinc agrees: "When I'm recording I'm always thinking about how the track would sound in a club, or what sort of reaction it would get from a crowd and as such I do find it very difficult to record material not aimed at the dancefloor. Having said that as I've played abroad more, I've found that the clubs can be more open to different aspects of the music as opposed to within the UK where often the crowd will only want to hear one specific style. I think perhaps that going to these places, has subconsciously pushed me now to not follow the pack quite so much and do my own thing a little bit more and this project certainly gave me the chance to put a couple more weird ones on there and broaden what I was doing a little bit."
Next year at Playaz sees more of the same. "Pascal is just finishing off his EP which includes remixes of both 'P Funk Era' and 'Serious Sounds' which are being battered on plate and that will be released in the New Year after mine. Following that we have no concrete schedule, we've no intention of releasing artist albums next year although they'll certainly be an 'In The Mix Volume 2' and a follow up to 'Real Vibez'compilation which, although will contain more tracks, will follow the same sort of pattern as we did last time in that it will feature new material from Hype Pascal and myself as well as bringing in a couple of other people."
As to the lifestyle? "It can be a bit mad sometimes and it's hard work but I wouldn't change anything I do – its all good."
There's playaz and then there's…