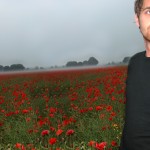 With any creative form, a bell curve reigns over the quality of the output with a theory dictating that average material will sell the greatest amount, leaving the more interesting records to languish at the sales perimeter. Dance music is in particular sufferance of this MOR sludge, with a plethora of artists crawling to the current sound equipping a slew of DJ's with formulated sets of predicated cuts.
Every now and again however a record swings in from the outskirts, offering a glance at the bigger aural picture. Like Aphex Twin or Future Sound of London before him the production force behind the Broadway Project has done exactly that, laying down his musical agenda by way of a series of acclaimed extended players for the well-respected Memphis Industries. With an album due for release in March, Kingsley Marshall met with Broadway's Dan Berridge.
A chronic bout of Myalgic Encephalomyelitis just over two years ago took Dan away from his home in London. Referred to as Chronic Fatigue Syndrome, or ME it is an illness without cure and strikes sufferers down with a combination of fatigue and poor concentration that often results in a subsequent depression.
Dan explains, "ME was certainly the catalyst for Broadway Project. Although it didn't really affect the tone of what I was doing – more a case of me wanting to do something creative and getting into music as opposed to just sitting around on my arse worrying about the distractions. I had a fairly good idea of the sound I wanted to achieve and though the stuff that I like was probably quite different to what I wanted to record – in that I listen to a lot of Tom Waits, Miles Davis and seventies jazz funk – I drew my ideas from those records and was quite quick to find that dark, melodic hip hop once I had bought the sampler."
When asked to describe what he feels defines his sound, Dan thinks for a moment before answering. "When the music is instrumental, you have got to work more at constructing a song and build in some movement to keep the listener interested. Although I'm not particular a melancholic person, I've always felt that the stronger music is usually that which is dark and I'd like to think that I make dramatic music as that's the idea."
The first taste of the "Compassion LP" came in the form of the thunderous, No Pain – a sonic train wreck which counted DJ Shadow and Van Helen amongst its passengers. The LP extends upon this premise, with each of the fourteen tracks somehow conjuring cinematic sense from a thousand densely packed, stolen snatches of sound.
"I'd like to think that the album is moving," he says. "There's a vague concept going on, not any one overriding thing more a general theme and thinking behind the tracks. I'd been working on those sounds for almost two years and when it came to putting it together it was strange in that it kind of just fitted into place – as if that's what I'd had in mind the whole time."
Memphis label manager Ollie Jacobs compares recording technique to that of sculpture. Dan laughs, "It's quite a weird way of working I guess; in that I'll start of with a dense layer of noise and chip away until something comes out of it – and the album took around four months of mixing and remixing material I had until I was happy with the result. There's a fair amount of live playing in there but I'd say around 70% of the album is samples, with the whole thing recorded using just a Mac and sampler. I have my own ethics as to what I will or won't sample, though if something works within a track then I'll use it – for me it's all about taking something out of context. The one thing I try not to do is use samples which couldn't subsequently be taken out – so even if any one element was removed the music would still hang together."
This year sees a slight change of direction. "Ideally the album would have been much more of a soundscape but I kind of restrained myself a little here in favour of having something that people could dip into to as opposed to having to listen to the whole thing. What I'm also now doing is attempting to achieve a similar sound but with more emphasis on live instruments and although it has been a little odd working with musicians used to a traditional recording set up it's not found it quite as difficult as perhaps it could have been."
As to what distinguishes Memphis from the rest of the pack of independents jostling for your hard earned. "Although we're resigned to having been lumped into the whole downtempo thing its not really about any particular scene – we're influenced by everything and I'd say its about something just a bit different – creating songs."