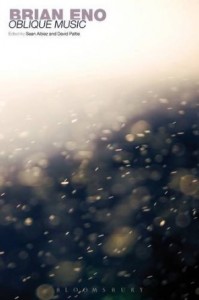 Just had a paper accepted at the  Music and Moving Image conference written with my Falmouth University colleague Rupert Loydell. The conference takes place at NYU in New York in May 2014, I presented a paper there a couple of years ago and its great fun in it being so specialist. It's a new paper, on Eno's moving image work, but uses the same mode of collaboration together with the Oblique Strategies pack we used in an earlier paper due for publication later this year  through Bloomsbury – Eno Remixed: Collaboration & Oblique Strategies. Here's the abstract for the new piece:
Title:
THINKING INSIDE THE BOX
Brian Eno, music, movement and light
Abstract:
'In total darkness, or in a very large room, very quietly' (Eno & Schmidt, 1979)
With the publication of  Christopher Scoates' book Brian Eno. Visual Music (San Francisco: Chronicle Books, 2013) the time is ripe for a reconsideration of Eno's visual projects which he has always produced alongside his better-known music and writing projects. In this paper we will consider how Eno has used simple but innovative ideas, programmes and processes to inform his films, apps and installation work, and how they have been disseminated to a wide audience.
Avoiding spectacle, noise and complexity, Eno – in association with collaborators such as programmer Peter Chilvers – has produced an array of intriguing and engaging art works. In The New York Times Style Magazine, Eno stated that he 'was trying to make visual art become more like music, in that it changed the way music changes.' (2013).
Kingsley Marshall and Rupert Loydell, a musician/writer and writer/painter respectively, will use Eno's own words, drawn from interviews and his own writing, along with critiques of his work, and writing by those who inspired it, to construct through remix, juxtaposition and process, how Eno creates his quiet rooms and visual music. The collaborators will exchange 200-word pieces of writing to construct their paper, with each consecutive response dictated by the turn of a card selected from the third edition of the Oblique Strategies deck issued in 1979.
Through this writing methodology – of the collision and collusion of collaborative writing practices borne by an exchange of electronic letters – coupled with more traditional modes of research an creative writing, the pair will cast light onto the manner of appropriation, process and collaboration that have informed Eno's creative output.