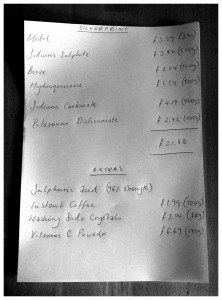 A new project, with director Mark Jenkin, that will culminate in a film, soundtrack and gallery exhibition. Mark's film makes use of the lighthouse as a physical representation of the spirit of celluloid and the work intends to reanimate that which has become derelict, in a celebration of human endeavour and the real. The score brings together location sound, aural history and music linking place, space and memory.
This is a project concerned with light.
Capturing light.
Manipulating light.
Projecting light.
This work is concerned with film as a format and is much discussed passing. Abandoned by the industry it was originally developed for in favour of more convenient and cost effective workflows, but now in the hands of the artists. The analogy with film is well-represented by the lighthouse, standing as emblematic of once cutting edge technology and design, now consigned to a purpose of heritage and nostalgia. Yet the buildings still stand; fortress-like, non-moving, anchored to the land through the weight of history and memory, and resistant to technological change – when digital technologies fail, the light still burns through projector and Fresnel lenses.
This initial demo formed part of the gallery exhibition pitch, and takes its cue from the timing of the light pattern characteristic, unique to each of the world's lighthouses. The noise behind the mix is the rotation of the fresnel lens of a Cornish lighthouse.