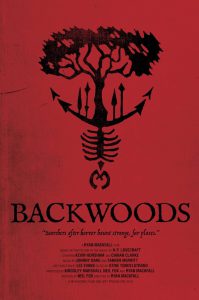 In November 2017, director Ryan Mackfall told Neil Fox & I about a H.P. Lovecraft story he'd read – 'The Picture in the House' – and was looking to adapt for the screen.
One year – and a production company, script, cast, incredible crew, shoot, edit, VFX, grade, score & mix – later, we had a film we're really proud of.
Our festival strategy for the UK and overseas has been designed by our friends at Festival Formula and now, almost two years after we started adapting the story of the screen, we're pleased to announce that Backwoods will premiere at the HP Lovecraft Film Festival, in Portland Oregon – in October, and is followed by an East Coast premiere at Vortex, Rhode Island before Halloween, and a European Premiere at London Short Film Festival in January 2020.
Here's the trailer.