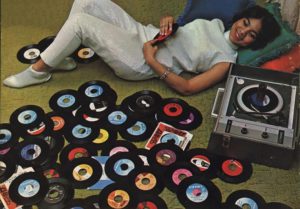 Originally published in Breakin' Point magazine.
The soul movement of the late 1960s and early 1970s proved as revolutionary as rock and roll before it, with the collectability of some of the rarer recorded remnants of the age an irresistible force to those either too young for northern soul or too old for acid house.
With the wealth of records having been plundered, an insatiable and exponentially expanding market, grasped for more with a plethora of contemporary bands filling the funk breach and keeping record boxes satisfied. As this music became increasingly authentic, so a number of labels ditched the twelve-inch in favour of 7-inch vinyl.  Although cheap to produce and quick to turn around, it is the cheeky upstart factor which has seen abstract and breakbeat labels alike follow these funk leaders with a swathe of superfly dinked 45's hitting stores worldwide and – for the first time since the 1940s – the 12-inch record, icon of disco and stalwart friend of DJ culture, is coming under  fire.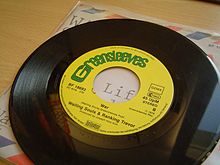 The history of the vinyl record is nothing if not convoluted. 10" discs of shellac resin were quick to replace Thomas Edison's clunky cylinder-based recording system in the late 19th Century.  The discovery of vinyl in the 1920s saw Columbia introduce double sided discs for the first time, eventually replacing the easily broken and very short capacity 78 rpm Shellac discs with a 33 rpm 12-inch disc in the late forties.  RCA gazumped the company however, taking advantage of the much quieter surfaces of the new material to introduce the 7-inch micro groove, with its 45rpm rotation the first to be determined by calculus – the sonic scientists having determined that a constant rotational speed of the disc occurred when the innermost recorded diameter measured half the outermost recorded diameter – hence the 3½ inch diameter label on 7-inch singles. Having become the standard format for the stackable jukebox in the fifties, rock and roll pushed for a record sale boom.
Although sales gradually faded, the low cost of manufacture saw independent labels pick the format back up just over a decade ago, as Stones Throw Jeff Jank explains.  "Releases on 7-inch seemed to explode in the early nineties in punk music for the same reason that they existed in the old days – purely because they're cheap to press and cheap to buy."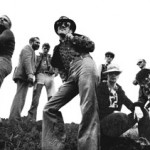 The crossover back into dance music came courtesy of Munich six-piece Poets of Rhythm, setting the 7-inch wheels back in motion with their Hotpie & Candy imprint.  Although partly a reaction to the more plastic forms of acid jazz flooding the record shops of the time, the label was primarily a celebration of funks golden age – acknowledging their own love of collecting.
Badly typeset labels, dinked 45's and crazy monikers – Bo Baral's Excursionists Of Enlightenment amongst them – the Poets confused collectors worldwide. Tom Shimura, aka Lyrics Born of Quannum Projects, explains, "I first discovered the Poets through one of their Hotpie & Candy releases.  From the presentation right through to the instrumentation, arrangement and the way it was mixed had me convinced that it was a 45 from the early seventies."
New York's Philip Lehman was another early champion of the resurgence of the super seven via his Desco imprint and later, the Soul Fire label, as he explains. "We were releasing funk 45's at a time when no-one else was really doing it other than the Poets.  Although could bring in a lot more money with albums, it only cost us $1200 to press up 3000 45s, compared to $3400 for the same amount of twelves – the upshot was that we were able to make a load of titles available for comparatively little cost."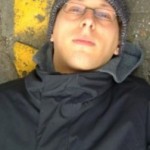 This is echoed by the UK's Mike Paradinas, whose Planet Mu switched to releasing singles on plain sleeve 7-inches a few years ago.  "It is less expensive all round, in that I can break even with around 5-600 copies, where I'd have to sell around 2-3000 if I was releasing twelves – which isn't really happening in this 'scene' these days."
The collectability is important as well, "They look cool don't they?  They're cute and loveable," adds Mike laughing, "like babies. They should have big eyes and nappies maybe. I guess it's a crossover between the two, with our releases a sort of colour-coded collectors paradise."
For some artists though, the collectability aspect far outweighs the cost, as Peanut Butter Wolf explains. "Since my record buying 'career' started as a kid buying 45's, and having found several other artists committed to preserving this endangered species, we're releasing 45's on Stone's Throw – even if it means selling only 1,000 units per title."
Adds Jeff Dank, "The problem for us was that we wanted to put covers on, at which point the costs start rising – to the point that twelves are income for us with the 7-inch single an expense."
Rob Luis, whose Tru Thoughts imprint has reflected the soulful funk of the Quantic Soul Orchestra with dinked 45's, echoes Stone's Throw attitude of conservation. "Stone's Throw was the first hip-hop label I was picking up who did 7-inches, and I personally like the idea that they're doing their bit to keep the format alive. Our first release on 45 was for the promotion of Bonobo's debut LP, where we did a limited edition release with two of the tracks from the album.  The original intention was to show that the label was making new music that had a history in vinyl."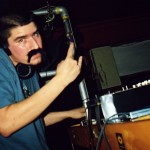 "There's a production angle as well," adds musician Will Quantic. "If you listen to something like the breakbeat on 'Impeach The President,' the record was pressed so loudly and mastered so badly that there's a touch of analogue distortion on the vinyl which lends even more urgency to the grooves.  When Rob made the decision to press some of the singles onto 45's, I took that effect into account and mixed the tracks differently to incorporate that overdrive onto the vinyl."
"Although releasing dinked 45's is mainly for aesthetic reasons, there's a usefulness of the format as well in that you can sift through a pile of them easily by putting your thumb through the middle and flip through with your other hand, scanning the differently coloured labels as you go." says Gerald Short of the appropriately titled 45rpm records. "By latching on to these designs, label owners like myself and others are respecting the common sense of the format as it was back in the day."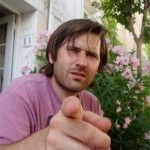 Others have different reasons altogether.  With his most recent release a double gatefold 7-inch EP from Broadway Project, Memphis Industries founder Ollie Jacob explains his own fascination. "I'm all for that kind of half-arse post-modernism of doing something authentically even though its not, but with our gatefold release it was more a case of Dan's music striking me as diametrically opposed to everything a 7-inch stood for. There was something perverse in taking the perfect pop format and doing something overblown and melodramatic with it. That said, there is certainly something classy about the 45 in that its intrinsically linked with what made pop great in the first place while 12″s are some sort of bastard son of the album, but missing all the reasons that make albums good."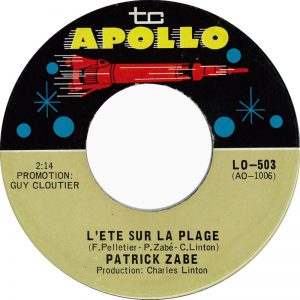 "There's a sense of artefact about them," agrees Garri Rayner, whose Sur La Plage imprint recently released a series of four 7-inches showcasing up and coming young Japanese artists. "There was also something I really liked about people using the Internet, something so high-tech, to buy vinyl 45's from our web site."
"They remind me of when I first started playing records on me Dad's old Garrard record player," says Melodic's David Cooper, "you could stack them on this thing above the deck and they'd drop down and play one after the next.  I'm not sure what it is but almost however good a CD looks, it still has a feel of mass production about it. You feel disconnected from the music when you put it into the CD player and it swallows it up, whereas with vinyl – you feel the weight in your hands, see the grooves and physically put the needle on the record and I think in doing so you make a tangible connection."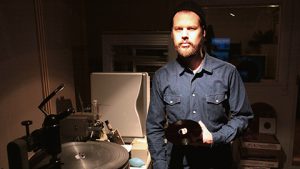 "They're just cool!" enthuses Finnish funk connoisseur Jukka Sarapaa, whose Timmion imprint took its cue from Soul Fire et al, with the labels 45's ripping up floors worldwide. "7-inch records are the purest format for music.  There's no fancy covers or video clip trickery to fool the customer – all that matters is the content."