First published in Shook magazine.
Originally adapted from John Godey's best selling novel and released in 1974, The Taking of Pelham One Two Three focused on the commandeering of a New York subway train by Robert Shaw's colour coded crew, and the hijackers subsequent demands for a cool one million dollars. Presenting a nightmarish New York, packed with dirty yellow cabs and battered buses, the film operated in the tradition of Serpico, Shaft and The French Connection, from whom director Joe Sergeant had borrowed his cinematographer, but it was David Shire's astonishing score that sent Pelham into the stratosphere.
The script offered little exposition in the early scenes, instead cutting straight to the heist, forcing the title music to work hard in setting the tone. "When you're working as a film composer you're helping a director fulfil a vision that they initiated, and I didn't want to write the same old stuff you'd heard on other action pictures," says David from his home in New York. "It took about a month for me to find a solution to the picture, but it was certainly worth the effort."
His solution was the use of twelve-tone serial composition. Devised by Schoenberg at the turn of the century and used later by Miles Davis and Bill Evans amongst others, it's rarely heard in movie music. "The sound I wanted was a kind of organised chaos that was expressive of New York," he explains. "It wasn't that I specifically wanted to use that method of composition, and Joe Sergeant couldn't care less if it had been ten-tone, twelve-tone or five-tone, but it the serial technique helped me get to control a score that seemed on the verge of falling apart."
The result is one of the most memorable film scores of the 1970s, reissued by Film Score Monthly and the Retrograde label, cited by the Beastie Boys' in Sure Shot and having inspired Deadly Avenger's unforgettable homage We Took Pelham. "This score was a big influence on my music," admits the Avenger's Damon Baxter, whose own recordings now regularly grace film and TV. "For me, Shire sounds like a fatter Lalo Schifrin. I had been interested in the way music is arranged as much as it has been written, and the arrangement stood out on this record. This score had it all; driving percussion, a huge brass sound, beautiful melodies and that incredible sax section."
"From the very beginning, composers have tried to help make a scene, or particular moment in a film, more effective," explains David. "Sometimes the music can be minimal and other times more elaborate, but it's always determined by what's on the screen which is where the rhythm and energy of the film really becomes apparent. When a director requests a main title featuring music, that's the place where the composer can give a concert," he adds, laughing. "It's like an overture, and gives you space to work, although that music still has to be carefully determined in order set up the movie the director wants the audience to be ready to see."
From the explosive opening title sequence, the score remains an ominous presence throughout the film, as dangerous as the flickering third rail, and accentuates the tension as the narrative builds. "People have told me that in the new movie, music is treated almost as a sound effect, and I've certainly written scores that have been buried," he explains. "I was fortunate that in Pelham, where my music was fighting a subway train, Joe wanted to hear my music. It was nice to get an opportunity to make a lot of noise with that kind of an orchestra. The tone of a film generally determines the musical style and I was happy to score an action picture as, prior to that, my work had become associated with more delicate and subtler scores."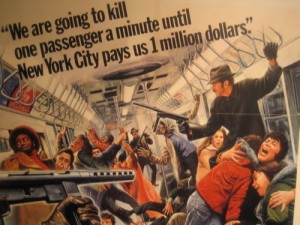 Perhaps the best known of these is his work on Francis Ford Coppola's The Conversation, where Shire's skeletal piano underlined the subterfuge of the narrative. "They wanted to get the music early for some reason, and I'd written the theme before I had seen much footage," recounts David. "Francis had put me through some exercises – asking for little piano pieces to titles that weren't even scenes in the film. I think his intention had been to loosen me up creatively, and get away from writing something too specific or on the nose, and it was one of those pieces that became the main theme."
It was through his work on this film thirty years earlier that brought him to Zodiac, as he explains. "Ren Klyce had tracked some scenes with music from The Conversation and David Fincher had liked this the most of all the music he'd been trying," he explains. "Fortunately for me, Ren was a neighbour of Walter Murch, who had worked as the sound designer on The Conversation and with whom I've stayed very good friends through the years. Fincher was thinking of just a piano score that would have worked, but which I didn't feel was enough for Zodiac, as it operated on a larger scale than The Conversation. I'd suggested that supplementing the piano with a soft string orchestra would be more effective and found some classical contemporary music that I thought would fit, and which Fincher loved."
Now aged 72, David shows no sign of retiring, continuing to perform concerts across the US and having recently scored Peter Hyam's Beyond a Reasonable Doubt. "I like working, I like challenging projects and I like staying in the game. There's a much broader range of aesthetic styles in pictures now, and that allows a much wider range of music. If I wasn't doing this, what else would I do?" he asks, laughing. "It's like asking a fish what it'd do without water."
Much of David Shire's back catalogue can be found at Film Music Monthly. Deadly Avenger's Deep Red is available now. Blossoms and Blood is awaiting release.