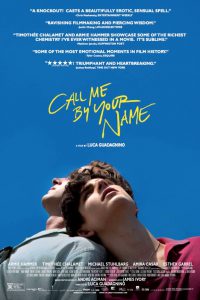 Have been commissioned to write a chapter for an edited collection on Call Me By Your Name, due in February 2021. As a long time Sufjan Stevens collector, I'm looking forward to spending some time with this music.
Abstract
In a way the narrator became Sufjan Stevens with his new songs, made contemporary, about our story, which is back. We wanted a sort of narrator that could make justice of the book, of the film, drawn from the narrative of Elio
(Guadagnino, in Encinias 2017)
In a number of interviews Call Me By Your Name director Luca Guadahgnino acknowledged the significance of music in articulating the subjective experience of protagonists Elio and Oliver, as their relationship develops over the course of an Italian summer in 1983. Unusually, a large amount of narrative information is communicated through the deployment of original score and existing music. Source music typically serves to situates the period of the film, with The Psychedelic Furs 'Love My Way' prominent in a key sequence, and a mixture of 1980s pop drawn from Italian radio playlists from the period all woven into the fabric of the narrative.
More unusually, music is often written into the scenes, initially iterated through piano pieces – mirroring Elio's own skill as a pianist – and later through the use of source music, specifically two original songs by Sufjan Stevens and a piano version of an existing track, all three of which are foregrounded in the mix – playing with little or no interruption by dialogue. Stevens was reportedly asked to contribute to a voiceover narration as reminiscing audio and, though he turned this down, the lyrics to his original songs effectively serves the same purpose (Utichi, 2017) – and the music, written to the script and delivered to the director prior to shooting, was played on set for the performers.
The director has described the use of the piano as making a significant contribution to the narrative, "as a dialogue… In fact, in Call Me By Your Name, we have extensive usage of the piano because those notes, in a way, are the interior and exterior dialogue between Elio and himself, and Elio and Oliver" (Guadagnino, in Schnipper 2018). Guadagnino had used John Adams' piano music in his 2009 feature I Am Love, and it is Adams' music that accompanies the opening credits of Call Me By Your Name, prior to a scene in which Elio watches Oliver for the first time. The piano is a prominent instrument throughout the film, accompanying a sequence of the pair's first and in an early scene where Elio plays his own interpretation of a piece for Oliver.
This chapter will examine the significance of music as a carrier of expositional information within the film and how they distinguish different spaces for the audience – of the moment, and of memory – and provide subtext for the emotions and relationships between the characters.