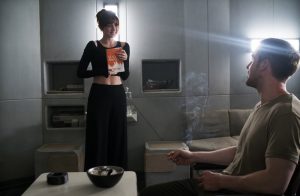 Chapter accepted on AI use in Bladerunner, for an edited collection on the films of Denis Villeneuve for Edinburgh University Press, due in 2021. A great chance to revisit the film, and extend my previous work on AI in Westworld and Black Mirror and further connect this work with a wider research porject on real-world ethics and representation of machine learning.
Blade Runner 2049 (Villeneuve, 2017) uses the manner with which near-future technology recreates or feigns consciousness in order to present a wider discourse around notions of identity, memory and the formulation of the human self and subjectivity. The franchise, including predecessor Bladerunner (Ridley Scott, 1982) and three short film prequels – Blade Runner Black Out 2022 (Wantabe, 2017), 2036: Nexus Dawn (Luke Scott, 2017) and 2048: Nowhere to Run (Luke Scott, 2017) – explores the impact of technological change on society, and the ethics and philosophical concerns pertaining to the use of such technologies.
In Bladerunner 2049,  AI is made manifest through two key characters. K is a 'replicant' slave whose memories are entirely artificial though who experiences life in the world through a bioengineered body and Joi, K's holographic companion initially restricted to K's home through the limits of its projection system, and born of an artificial intelligence that evolves over time.
Mireille Hildebrandt observes, though both automation and autonomic machine learning processes rely on algorithms, the distinction is that automation is static, while autonomic machine learning is 'adaptive, dynamic and more or less transformative" (2016: 57). As such both K and Joi can be determined as autonomic – or self-governing systems – where their respective bioengineered or machine learning systems allows them the space to develop – and in some readings of the film, fully form – their own human-like emotions. Each satisfies Martin Heidegger's notion of an "an openness-of-being" in that both entities are present and able to directly relate to the world around them (1977).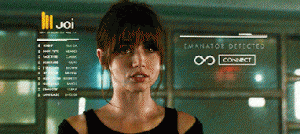 Andrew Schopp notes that proponents of transhumanism such as Raymond Kurzweil (1999, 2012) commonly represent new technologies as a catalyst for such changes as a positive outcome or ideal (2019). Each iteration of Bladerunner aligns with other transmedia representations of AI – challenges this notion, presenting the ethical and socio-political challenges of technological change through the prism of current experience throwing light on how and where such change presents a challenge to the human experience (2019: 66).
This chapter considers how the film presents representations of machine learning or AI as a biocapitalist discourse that presents the philosophical and ethical impacts of real world applications of technology.