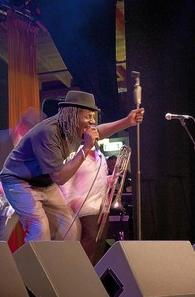 First published in The West Briton
He may have needed assistance down the steps halfway through his show in order shake the hands of the faithful, telling the crowd he's getting old but loves performing a touch too much, but Neville Eugenton Staple leaves little doubt that he still owns the small stage of Falmouth's Princess Pavilion.
Despite having suffered a stroke late last year, The Specials' frontman has more than enough energy to deliver a blinding set powered along by an astonishing back catalogue.
The band bang out hit after hit – Monkey Man, You're Wondering Now, Call Me Names, A Message To You Rudy – Staple lapping it up as his lyrics are sung back to him by the ever-faithful ska brigade, a pogo-ing hardcore resplendent in Two Tone black and white, and pork pie hats.
His touring band are slick as they come, a flash of 1979 in their eyes as they see off a detractor who inadvisably makes moves at Staple in an otherwise good-natured and sweaty show, that bodes well for a rumoured ska covers album next year. For this night however it's all about the hits, with an encore of Gangsters and a blistering rendition of Ghost Town feeling particularly apt in this age of austerity, where the Seventies suddenly don't feel so long ago.
If you're looking for a gift for your ska-loving beau, you can't go far wrong with Staple's biography – an account of the music of the sound system, titled, of course, Original Rude Boy.