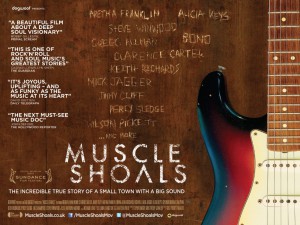 SWEET HOME ALABAMA
Words: Kingsley Marshall
Greg Camalier's debut film charts what became known as the Muscle Shoals sound picking through the musicians and moguls who conjured a uniquely southern take on R&B from a tiny town clinging to the mudflats of Alabama. Wilson Pickett's Mustang Sally? The Staple Singers' I'll Take You There? Hits from Etta James, Cher, JJ Cale? Session band The Swampers were behind them all, knocking out tracks from Rick Hall's FAME Studios before setting up on their own.
"I'd loved a lot of that music that came from there since I was a kid," explains the director from his home in New York. He and a buddy had stayed over in the town during a road trip, and were immediately taken in by this place they had first heard name checked in a Lynyrd Skynyrd cut.
"I thought the story of the studios was so remarkable and deserved to be heard," says Greg. "My filmmaking experience was quite sparse and it took about a year to build up trust with Rick Hall and the other guys, but being authentic and real with them about our intentions really paid off. The FAME Recording Studio hadn't changed at all in the fifty years since it had been established. The history of the place was palpable when you walked in, but it was the people in the room that made that studio work. All those guys, they just had it, you know? The sound is special because they were special characters, and the film is really a tribute to who they are."
The film is littered with interviews, with Jagger, Richards, Bono, Aretha and Alicia Keys all making a contributor. "When people heard what the film was about – they didn't hang up," he explains. "The story is a legend amongst musicians and everyone I called was honoured to be able to talk about these people who had paved the way for them, yet lived in anonymity their whole lives. I still feel lucky to have been the one fortunate enough to tell this story, I made a lot of friendships along the way, things that I'll carry with me for the rest of my life."
The film made quite an impression during its festival run, but it's legacy extended far beyond the cinema back in November. Dr Dre's headphone company Beats Electronics announced a plan to renovate and revive both The Swamper's Muscle Shoals Sound Studio and Rick Hall's FAME Recording Studio in the coming year, together with an educational programme run by Rick's son Rodney Hall. The soulful sound of the shoals lives on.