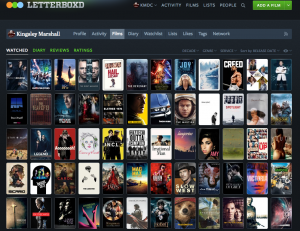 During a bout of flu earlier in the year, I shifted digital lists of films from a stack of different locations into a single Letterboxd.com account, having clocked a couple of colleagues use of the site from their Twitter Feeds.
A social network for those who love cinema, there's stacks of film critics and enthusiasts creating lists from festivals, best ofs, award winners. I've made use of the diary function to note down when I'm watching movies, rating them and adding a blipvert two word review.
The watchlist is the function I've used the most however, a single spot to add movies I've missed or the recommendations I get every day as well as shifting my list of films that we're missing in the university catalogue for the library order I put in every month or so.
I've seen students keep Tumblr accounts or other records of the movies they see on the film course I teach on, and will be encouraging them to engage with this site so they can share their viewing and enthusiasm as well as putting together a list of all the films we use on the Film course this coming year too, for incoming applicants.