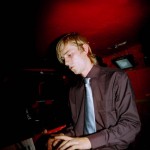 First appeared in iDJ Magazine.
Henry Smithson's strange sonic brew began in Newcastle, where releases from his own Switch label eventually made the record bag of Manchester hip hop patriarch Mark Rae, who subsequently offered Smithson a job at the Fat City record shop and an outlet for his solo material as Riton, French slang for Henry, on his accomplished Grand Central imprint.

Whilst 'Beats Du Jour,' his debut album for the label, skipped nervously from r&b to electro and body rocking house, his latest is an even more obtuse affair. 'Homies and Homos' enlists Howdy's Lee Jones, Ben from the Fat Trucker's and sometime Playgroup collaborator Luca Santucci, to add a little vocal panache to Riton's eclectic, post-electric, brouhaha.
Although he started work on the album last summer, the project was stalled by Howdy. Working with Lee and a scattering of other musicians and vocalists, Smithson's next big project has caused quite a buzz through a scattering of hard-to-find seven-inch releases and a handful of even harder-to-get-in live shows.
"Working with other people has been great," says Henry, by way of explanation of how Howdy has influenced his material recorded as Riton. "I think as a solo artist it's easy to go off on your own and lose the point of what you're trying to. When I lived in Manchester, I was completely surrounded by soul, jazz and hip hop, but since I've moved to London I've been working from home, and am certainly much more of my own man. 'Take Control' was my favourite track from the first album, and I wanted 'Homies and Homos' to have all the same energy and feeling of that. I wanted this album to be heavier sounding and have a bit more aggression – to actually say something, you know?"
When asked about the bizarre moniker, Henry laughs. "My cousin works for a big marketing company in America and that was the description he'd been given of the people to aim a particular brand at. I couldn't help thinking that it was an amusing subgroup, and figured it encapsulated the two main influences of my music – hip hop and house."
'Homies and Homos' is out now. Riton's continues to cajole DJs such as The Rapture and Too Many DJs to his weekly Gucci Sound System session at Gossips, Soho.