First appeared in iDJ Magazine.
Whether it's the mop topped music of Liverpool, the baggy screamadelica which originated in Manchester, or the emergence of Berry Gordy's Motown from Detroit – every city has its own musical story. While New York is widely recognised as the home of disco and Chicago's place is firmly fixed in the dance music consciousness as the crucible of house, despite its unmistakeable effect on contemporary music, Philly still remains something of an unsung hero.

A pack of artists have emerged from Philadelphia in the last few years and, having achieved considerable success across every section of dance music, we at DC figured it was high time we hit the streets and studios of the city of brotherly love, in order to uncover the secrets of its soulful sound.
Back in the sixties, producers Kenny Gamble and Leon Huff recut the raw soul of Hi Records, Stax and Volt into a much smoother groove through entwining the vocals of a string of acts – from the O-Jays to The Delfonics – with lavish sweeps of orchestration and brass. Though Gamble and Huff are widely credited as having paved the way for the producer as auteur, something which we now take for granted in much of the pop, R&B, hip hop, and house records we hear today where it is often the producer who makes the definitive mark on any one record– don't mistake this for a history lesson. Philly Soul is now more relevant than ever, as its sound lives on in a second wave of artists which includes Jill Scott, Ursula Rucker, King Britt, The Roots, Lady Alma and Lizz Fields.

"Everyone here is a damn musician," laughs Big Dada signing Diplo, who resides on the corner of 11th and Girard, and whose Hollertronix collective has taken a slew of influences to hip hop and twisted these out to create something unique. "Philly is a soulful city. We've got real problems and real outlets for kids with ideas on music and soul music what you got to expect from a city this rich in black culture. There are a lot of tough people here, and it's got much less bullshit than New York or London, and more of a grassroots neighbourhood vibe. There's no marketing strategy or fancy management hook ups that are going to pull you up if you're corny, you've got to be good to make it here, and if you've made a name here you must be doing something right. So there's people like Jill Scott and Musiq, who have built strong careers and exploded out of this reborn scene years ago, then there's labels like Rocafella, who have signed six of their last dozen rappers from out of Philly."
Production team Karma were behind the desk for Jill Scott's first two abums, and have worked on cuts from both established artists The Roots and Musiq Soulchild, as well as a string of newcomers which includes the hotly tipped Aaries.
Say's Karma's Carvin Haggins, "Philadelphia is all about heart and soul, and I'd say everything done here is done with passion and commitment."
"The original Philly Soul was defined for me by great stories, strong groves and honest lyrics and, although we add a hip hop influence these days, you can still hear those stories in the records that people are writing now." – Karma

Carvin's Karma colleague Ivan Barius agrees. "Some of the realest things ever said were said in some of those classic records from back in the day. Those guys spoke to the everyday folks that were just trying to get by. Philadelphia is a very blue collar town rooted in hard work, and a lot of inspiration comes from that everyday 'hood struggle. There's an inner feeling of 'we're all trying to make it out of here,' and that's something which, in my opinion, has never really changed."
"At that time, the content of American soul was pretty much on the same page wherever it originated," continues Ivan. "What set Philly apart was the musical approach of people like Gamble and Huff, who polished their musical arrangements to the degree where I would say that Philly Soul was the tightest sound of that era. Those guys were also the first producers to really work with all of the record labels – effectively making exclusive production obsolete, and setting up the blueprint for what we, Jimmy Jam, Terry Lewis, the Neptunes and countless others do now."
Another distinguishing feature of Philly is its history of collaboration and cross-pollination, recent years seeing rappers working with poets, poets crossing over into R&B, and everything from its house and techno to its drum & bass infused with that all important soul sonic force.

"Philly is like the Harvard of R&B, in that some people take their education elsewhere but most stay here forever." says Grammy award winning songwriter Billy Mann. "When I was growing up in the 1980s, Philly was a much more violent place than it is now. In recent years the city has been voted as simultaneously both the most friendly, and the most violent, city in the US. It's kind of like that, and it is that intensity which makes the music more powerful in some ways. The whole melting pot volatility makes its musicians fuse multiple sounds and multiple genres and its that chemistry which has give birth to synergies like Grover Washington Jr, who mixed up jazz with R&B, Jill Scott who did the same with hip hop, Hall & Oates who turned out rock and R&B and even Pink, whose music takes on elements of jazz, pop and rock. Philly is a metropolis, but it's still a town and not a city. People know each other and the vibe is a unique one."
Any study of Philly wouldn't be complete without touching down at Jazzy Jeff's production company, something of an incubator for many of the artists and producers who came out of the city in the last decade, including Jill Scott and Carvin and Ivan's Karma.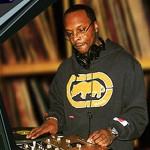 "I established A Touch of Jazz in 1989," says Jeff from his home on the Philadelphia waterfront. "When I started making music, I didn't just want to make hip hop, but try different things. My initial intention was to have a company under which I could make any type of music, but from there it became important to seek out creatively free people and see if I could give them the opportunity to share in the same joy and do what I'm doing. I'm not one of those people who thinks that artists have to pay their dues – if I can tell you something so the road may be smoother for you, then I'd rather tell you than let you fall in order to learn that lesson."
"This is one of those towns where, although we love to love you, we equally love to hate you. When we're winning there's no better fan than a fan from Philly, and this is something that is as true to music as it is to sports, but if you're losing, those same fans will absolutely let you know." – Jazzy Jeff
"That's important here," he continues. "A lot of my DJ'ing ability came from that attitude – no one gets any Philly love, until they've bust their ass. You need to do whatever you need to do to let people here know that you're serious – show and prove."
The 'Jazzy Jeff in the House' album for Defected brings this attitude to the mixed compilation, as he explains. "There's two kinds of music to me – good and bad. That's it. Funk, jazz, house, hip hop and rock, if it fits I want to play it and expose the audience to different things. As much as I am Will Smith, I'm Jill Scott and I'm Musiq Soulchild. As much as I'm a record producer, I'm a house DJ and a turntablist, and I have a band. People like to put you inside a box, and the greatest joy for me has always been the freedom to try different things. The talent had always been in Philly, but because nobody had broken out in a long time, the artists weren't that confident and it took someone like Jill Scott to break out and reignite that confidence. I believe every city in this world has talent, and it just takes one person to bust out for a whole slew of talented people to begin to gain recognition."