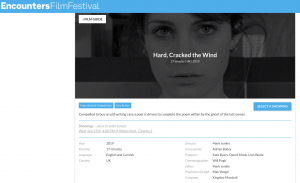 In Spring 2018, director Mark Jenkin sent over a script for a ghost story written by Adrian Bailey. Told over a number of timelines, the script had an inter-dimensional quality which echoed some of the work I'd been doing in my writing on Twin Peaks: The Return. Hard, Cracked the Wind centred around ideas of death, memory, and used metaphors of the sea and heavy weather to evoke themes of what it is to live and love.
Mark and I have talked over the years about doing a sound/film collaboration, and some music had been written for a couple of projects which didn't quite make it off the ground but this project had a little more momentum, with Kate Byers & Linn Waite from Early Day Films working on the production and the BFI coming into the production during post.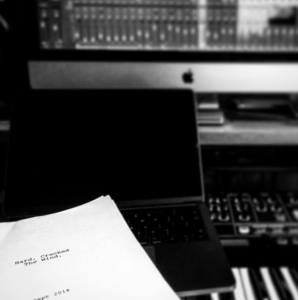 Adrian's script chopped and changed a little from that first draft and, following conversations around the story with the director, writer, producers and others (and with the help of some beautiful location recce shots), I wrote a couple of sound design orientated pieces. Later, I added some more traditional music cues prior to shooting and was overjoyed to take up the role of composer on the production in the summer 2018.
With finance secured, the film's principal photography was completed October 2018. It was a delight to visit the set and discover from the actors that some of those music cues had been played for mood during shooting (Mark's process uses post sync sound – read more here).
Since then, I worked around Mark's ongoing visual edits of the film shot and worked with a group of collaborators to deepen the score, with some of these cues informing the edit, and I had sat in to complete the film's mixing with Mark and dubbing mixer Rich Butler in July 2019.
One of the most satisfying purely creative projects I've been involved in, the film premiered at Encounters Film Festival in September 2019, and is on its festival journey now – it has since played  Leeds Film Festival and Cork Film Festival in November 2019, Oberhausen, Rotterdam, London Short Film Festival and the Celtic Media Festival in 2020.
As an additional treat, Mark Kermode has picked up a few of the cues for his Scala Radio show – and talked about the film and its soundtrack on his show broadcast 12 October 2019. Mark starts talking about the film around 1h15m in.