In Spring 2018, director Mark Jenkin sent over a script for a ghost story written by Adrian Bailey. Told over a number of timelines, the script had an inter-dimensional quality which echoed some of the work I'd been writing about around Twin Peaks: The Return. Hard, Cracked the Wind centred around ideas of death, memory, and used metaphors of the sea and heavy weather to evoke themes of what it is to live and love.
Adrian's script chopped and changed a little from that first draft and, following conversations around the story with the director, writer, producers and others (and with the help of some beautiful location recce shots), I wrote a couple of sound design orientated pieces. Later, I added some more traditional music cues prior to shooting and was overjoyed to take up the role of composer on the production in the Summer.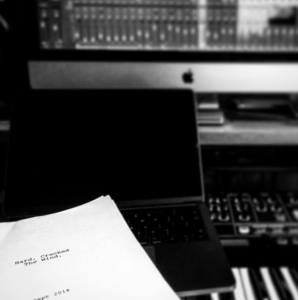 With finance secured, the film's principal photography was completed October 2018 and it was a delight to both visit the set and discover from the actors that some of those music cues had been played for mood during shooting.
Since then, I've had a draft visual edit of the film shot in stark 16mm and, with the film in the throes of post-production as Mark and the team move to a picture lock, I've been working with a group of collaborators to deepen the score. One of the most satisfying purely creative projects I've been involved in, I'm looking forward to sharing this work for what I think will be a beautiful and poignant film.
The film is due for completion July 2019.