Deconstructed Live began at the turn of the millennium as a showcase for contemporary music. Writing columns for music magazines in the UK and overseas provided Kingsley Marshall with access to some of the Uk's most interesting producers and musicians and the gigs – held in boutique venues all over the country – allowed for a varied music policy. This night wasn't just about soul, funk, house or hip hop – rather the opportunity for some fabulous producers, DJs, label managers (and the occasional journalist) to play their favourite records to a receptive crowd.
Deconstructed Live ran in its first iteration for over 80 dates, across half a dozen venues (sometimes 400 miles apart) and what followed was pretty amazing. Like the little club that could, the calibre of the guests – coupled with Darren Whittington's gorgeous marketing – drew the attention of national and international press who described DC as one of the best nights in the world (that's, the whole world), stealing Club of The Week from Fabric (twice) in The Guardian and the NME, as well as being regularly featured in the pages of Mixmag, DJ, Muzik and i-D.
Each DJ played a set of between two and four hours, yet only half a dozen records were heard more than once in 140 hours of music. Obscurities, rarities and unreleased demo tracks jostled for attention. Lots of promoters talk up their music policy, but we'd challenge any other club to boast such variety. Our friends eclectic.
With some foresight, a trusty minidisc was employed to record every single one of these sets and uploaded to Mixcloud for posterity.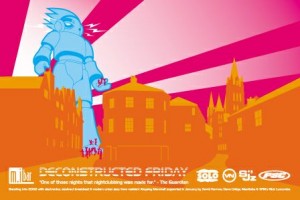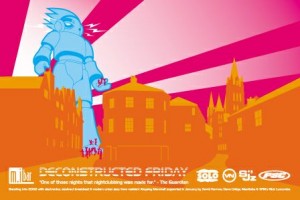 "As far away from Homelands and the World Cup as you could get. But Kingsley Marshall is an ace DJ and, objectively, what's better? I'll give you a clue. This is."– Club of the Week, The Guardian
"Angular beats, leftfield grooves…eclectic vibes – in Cornwall? Why not? All-round DJ/journalist Kingsley Marshall has been enticing some top drawer guests down to the deep south west…leaving them free to play basically whatever the hell they like…expect a wild and freestyle set." – Club of the Week, NME
"Truro's lovely. You should go. They do a great tea in the high street. Then there's Kingsley Marshall's jam. The excellent Ollie Jacob of Memphis Industries dismantles your head and then proceeds to stomp about with glee. One of those brutal nights that nightclubbing was made for." – Club of the Week, The Guardian
"Deconstructed is hosted by Kingsley Marshall, who has attracted some of the key players in the leftfield electronica and abstract breakbeat scenes. In return, this weekly session offers scant reward except the chance to play absolutely anything and a friendly sofa to crash out on at nights end." – Club of the Week, The Guardian
"Banish all your preconceptions here. There's a quiet revolution going on. Deconstructed kicked off with Kingsley Marshall pulling in a calibre of guests that any promoter would be proud of – having played host to the likes of Tom Middleton, Sunday Best, Pork Recordings and Ninja Tune. Get reconstructed at Deconstructed." – Ice