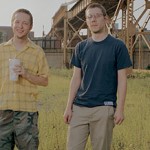 First appeared in a spin off of Dazed and Confused magazine.
The core components of the hip hop holy trinity – comprising graffiti, breakdance, and the complementary skills of the DJ and MC – have long been understood. Integral to each of these elements however are a slew of other skills. Crate digging – or the sourcing of records – whether for sampling, DJ'ing or simply to satisfy a gap in a record collection, remains something of a dark art.

Unlike the comparative show-and-tell of the turntabalist, the crate digger is a secretive character – closely guarding their contacts, record values and, perhaps most importantly, the location of hot spots for cheap or rare vinyl. Don't mistake these collectors for some kind of bespectacled list maker though. Life ain't no Nick Hornby novel after all, with the very prospect of a 'definitive' list anathema to the dedicated digger. Indeed, the very nature of digging determines that the search can never be over, with the hardcore always on the hunt in their trek through the dusty crates of record stores, the stuffy shelves of charity shops, and the traditional drizzly morning of the car boot sale.
Collecting is a male obsession," offers new jazz tastemaker Nik Weston, having dug his phone from a desk which groans under the weight of the latest additions to his 30,000 strong record collection. "Growing up in the 1970s you'd see men in raincoats and notebooks collecting train numbers or spotting planes, but I preferred to collect something that I could listen to. Punk, soul, funk, new wave and jazz – I've collected all sorts, but the last 10 years have found me concentrating specifically on records from Japan. Half the reason that you fork out the money for something, is the fact that only a select few other people have it."
While funk and soul are genre long plundered by producers seeking fresh beats, library music – created by session musicians, copyright free and used as incidentals for radio and TV broadcasts and film – changes hands for huge sums amongst those in the know.
Jonathan Benton-Hughes has made a career from digging, with his Trunk label building quite a reputation for championing the obscure, including hard-to-find library music and other hard-to-find original recordings. Projects have included previously unreleased soundtracks from John Cameron, collections of work from jazz pioneer Basil Kirchin and an ongoing series of music from 1970s children's programming – 'The Clangers,' 'UFO' and 'Bod' amongst them.
I've spent over £150 on a record in the past," admits Jonny, "but about half my collection is made up of bargains. There are plenty of overrated records out there. Off the top of my head I'd recommend avoiding so-called progressive albums that you can't listen to, most privately pressed folk, which was pressed privately because no record company wanted it, and those early EPs by Lemon Jelly which are not really worth £200. I come from a generation that grew up on charity shopping and jumble sales," he explains, before screwing up his face and making another admission. "I've even hunted for records in the local dump. Grim, grim work."
DJ Shadow compadre Dante Carfagna, who blew minds with his record collection during the Brainfreeze and Product Placement tours, even admits to scouring the obituary columns of the daily newspaper in his native Chicago like some kind of vinyl grave robber. "All dealers have their quirks," he explains. "I've been solicited for sexual favours, babysitting jobs, drugs, car repairs, rare Conway Twitty ephemera and all manner of other illicit activity by these people who refer to themselves as record dealers."
"I only ever pay top whack if it's a record I've been after for years," adds Michael Hunter, chief sample manipulator of the Butch Cassidy Sound System. "Digging is different now, primarily because of the internet. Before Ebay it was extremely hard to find something like 'Soul Fever' by Mary Queenie Lyons, but nowadays even these previously rare records turn up every few months or so, although they still sell for stupid money. The real problem is that if a record is old or in demand, it'll be reissued eventually. I guess that's a good thing but if you've just spent a shed load on a record, it can be a little annoying."
Nik Weston agrees, but argues that nothing quite tops the original release. "Although you may have a reissue with identical sleeve and centre label that's sure to sounds better, these records just aren't the same emotionally. Vinyl lives and breathes. It ages visually and experiences life. Having said that, I once paid 180 pounds for an original Dee Felice Trio album that was reissued three months later. Gutted? Moi? Hell yes."
"If the question is, what the most overrated record is, it's probably Ramp," comments DJ Nu Mark, currently on sabbatical from his DJ duties with Jurassic 5 in order to throw down soul sonic sounds with fellow digger Pomo as the Blend Crafters. "Sure, it's an amazing record, but the prices I see for it are ridiculous considering the amount of reissues available. I figure that if the music is good I don't need the OG press. It'd be nice, but I'm not going to spend $300 on something that I can find for $12 – it's no longer rare homie."
That said, there are even records Nu Mark would sell his soul for. "I keep missing out on the English press of 'Fair Play' by Soul to Soul, which was a tough record to find in the states even when it was released. De La used the beat for the test press of 'Double Huey Skit' and the drums were also used on 'So Whatcha Sayin' from EPMD. The worse part about that record for me is that Cut Chemist and I were once touring in Japan talking about how we both wanted this 12-inch, and he found it that same day a crate away from me at a record store in Shubuya. That blew clams."
When it comes to the spirit of sharing, the Polish contingent of Ninja Tune's sample samurai Skalpel are more than generous. The crew allowed users of Ninja's website to download the samples from one of their tracks and utilise them to their own wicked ends, in a competition whose winning entries were included on a single coinciding with the release of their own debut LP. As Skalpel explain however, diggers are never off duty. "We once found some records in a corner of a garage where a guy was repairing our car."
Their obsession however is borne of an unusual state of circumstances. "Our serious collecting coincided with the end of communism," they explain. "I'd wanted to collect records from the end of seventies, but it wasn't possible to pick up western releases in Polish shops. I once bought some Beatles and Pink Floyd at a flea market but they cost close to half the money my father would normally earn in a month."
A misty eyed Nik Weston offers the best advice to potential crate raiders "I once found a load of copies of a record by a Japanese female singer called Yolica in a shop in Fukuoka. There were only a 1000 pressed, and the record had a killer instrumental bossa track on the flip. They sell for about 40 pounds a piece, and I picked up seven copies that day. Something I learnt from Jazzanova, is to always look out the back of the shop. Go where the normal people don't go, as that's where the treasure is to be found. They also have a reputation for wanting to go through every single crate – every single box – in a shop. They'll spend seven hours in a record store in a day. They don't even stop for lunch."