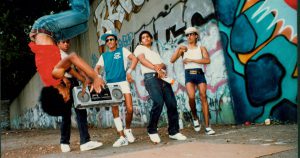 First published in Clash magazine.
It is well over three decades since hip hop first arrived on our shores. Prior to Baz Luhrmann's new series for HBO The Get Down, a series of feature films released between 1981 and 1985 greatly assisted in its dissemination, playing a large part in the transportation of b-boy culture from the Bronx to Britain. Wild Style was the first of the movies to reach theatres. Production began in the summer of 1980, and benefitted from a cast drawn from those creating graffiti, rap and breakdance in the South Bronx at the time.
"You've got to understand that New York was covered in graffiti from 1970," explains the film's director Charlie Ahearn. "Every surface was hit with tags and, if you see that as the first public manifestation of hip hop, which I do, it represented something much larger – a cultural revolution. I'd arrived in the city in 1973 and, as an artist, was interested in making an art film in these communities. There was a sense at the time that it was important to make contact with the street in order for your art to be serious so I began to make trips into the Smith housing projects, which was near where I was living in the Lower East Side."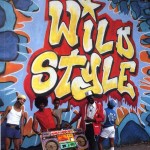 "I'd film graffiti around the handball courts with a 16mm silent camera then return to the projects the following weekend and show the films publicly. One time I was filming, this was some time in 1977, and I heard some music coming from a gymnasium. James Brown's Soul Power was playing at deafening volume, and there were two groups of guys lined up – my first encounter with what we would later call breakdancing. As I'd done previously with the graffiti, I shot some footage and the following weekend when I projected the film some kids from the neighbourhood approached me to make a film. There was a kung fu school in the neighbourhood, and they wanted to make a Bruce Lee fantasy movie with their kung fu teacher as the hero. That was my first narrative film, The Deadly Art of Survival."
"In June 1980 I was screening the film at an exhibition in this decrepit building in Times Square, and I was approached by Fab Five Freddy. He'd heard about my films, and talked to me about how he wanted to work with me on a movie that included rap music and graffiti. Fred had been working for over a year establishing some presence for himself and Lee Quiñones as artists in the gallery scene. Up until that point there had been no recognition of artists that came from the street, or any concept of how culture could come from a place like the South Bronx. Fred had taken his and Lee's work to a gallery in Italy back in 1979, easily a year before Jean-Michel Basquiat had even started painting on canvas, and was looking for allies that could help him capitalise on the graffiti explosion and bring it into an art context. That meeting was the catalyst for Wild Style."
Though a fictionalised account, the film continues to resonate with its authentic portrayal of the creativity coming out of New York – from the graffiti of Lee Quiñones, who plays graf artist Zoro in the film, the skill of the DJ demonstrated in a virtuoso performance from Grandmaster Flash and some superb club sequences, which included some of the period's leading MC's, DJ's and breakers. "The film involved working with a whole host of people from the hip hop scene," details Charlie. "From Grand Wizard Theodore scratch mixing the soundtrack or Grandmaster Caz writing lyrics with me, there was a great deal of collaboration in order to create things on the screen. The film was more about projecting something, though that doesn't lessen the fact that it serves as a document of who these people were and what was going on at the time. I'm not a purist or someone who says that hip hop is this and that, or that it was some monolithic thing. For me, it is the core of the creative experience that's interesting and there's no doubt that the people who created hip hop as we know it came from this seedbed culture. Their backgrounds were in graffiti and breakdance and they later developed into DJ's and MC's. I would question anyone who says there is no such thing as all these elements being related, you can't really separate these things out."
In perhaps the film's most memorable scene, Lee describes his work as that of an outlaw. "We had set up Lee and Zephyr in a spot where we would see trains going by," explains Charlie. "In a sense, that's one of the places where the movie comes closest to a documentary in its approach. Lee expressed himself and the feelings he had about graffiti and what the trains meant to him, that was pretty much straight from his heart."
After the release of Wild Style in 1983, over a dozen films entered production attempted to chart the burgeoning hip hop movement. "I called it the breakdance wars," states Adolfo 'Shabbo-Doo' Quiñones, who played Ozone in Breakin', released as Breakdance in the UK. "Everybody and their cousin were making a film. In the space of a couple of years you had Krush Groove, Beat Street and Body Rock. Even noted thespians were involved, Sidney Poitier produced and directed a breakdance movie called Fast Forward. When the dust cleared, it was Breakin' that proved to be the victor and caused Hollywood to sit up and take notice."
Though perhaps one of the more formulaic of the hip hop films of this period, its connection of popular themes with street dance and hip hop ensured it crossed over into the main stream. Shot and released in 30 days, the film had grossed over 35 million dollars by the time the dust settled, with a sequel conceived two weeks later and again rushed into theatres, adding a further 15 million greenbacks to the coffers, outperforming the more credible Beat Street three to one at the box office.
"So many people were making those films, it was like the beachfront on the battle of Normandy." laughs Adolfo. "Who was going to land in the cinema first? It was a genuine phenomenon. The movie was released at the same time as a Mel Gibson film called The Bounty, which came second to Breakin' in the box office, and the reception was tantamount to The Beatles' rock invasion of the US. I couldn't go to a public place without creating a riot – it was larger than any of individual's involved. There was no sophisticated marketing, no internet, no press junkets, no MTV and no VH1. None of that existed then.They'd be ads in papers and then we were reliant on word of mouth."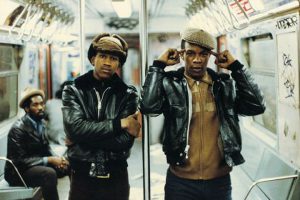 "You have to realize that at the time hip hop wasn't yet clearly defined and it wasn't until the early 1980s, on the west coast at least, that we were introduced to hip hop as we know it now. At that time, rapping and the DJ took a backseat to the dance element, but you couldn't sell records through people dancing. In fact, a lot of the people that the record companies signed in those early days came from street dance crews; they were the breakdancers, poppers, and lockers. In a lot of the films that came out dancers served as glorified extras, but in Breakin' the entire movie rested on the dancers. We were placed front and centre and brought an authenticity to the roles that an actor couldn't. Ozone and myself were one and the same, the costume in the movie was how I dressed every day, and all of those kids in lead roles were part of my own street dance crew – Poppin Pete, Lollipop, Popn Taco, Boogaloo Shrimp – the whole nine.As such, other than the thin story line about getting on Broadway, the film was accurate to what was going on in LA at the time – you could call Breakin' a reality movie."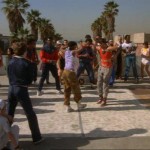 Charlie Ahearn adds, "There are a lot of parallels between the films, but for me Downtown 81 was the brother to Wild Style. Both brought together rap and graffiti and have a fictionalised artist character who plays himself at their centre. I'd also say that both films were a reflection of a downtown attitude that came out in movies like James Nares' Rome '78 and even Chelsea Girls by Warhol, all of which had this fictionalised reality to them. Downtown 81 had disappeared off the map before we even came to finishing, and only reappeared recently. We didn't distribute until 1983, this was still before Beat Street and even Style Wars, which is a film I love a lot, but is more like a classical documentary. We had about 35 prints, which was huge for an independent feature, but no comparison to a film like Beat Street, which had maybe 800 prints and commercially blew us out of the water. You've got to understand that, because I was the little guy, I was forced to compete with these pictures. I think the reason that Wild Style has endured is the underdog sense we had while we were making the film, both in its subject matter and how it was made.I think people watching it can feel the street in it.There's no question of its credibility, I think that gives it life and you can't really duplicate that."
The 25th Anniversary edition of Wild Style, Breakdance and Breakdance 2: Electric Boogaloo are all available on DVD. Charlie Ahearn's account of making the film Wild Style the Sampler, is available through Powerhouse Books. Beat Street is available on DVD through Optimum Releasing.
FACT BOX: WILD STYLE
Lee Quinonese tuned up for the first day of shooting with makeup covering a prominent scar on his nose, an effort to evade the law."I had to point out that his face would be thirty feet tall on the screen," explains director, Charlie Ahearn.
The amphitheatre scene was originally shot in October 1981 with Grandmaster Flash and the Furious Five, though the group had split from Flash in production.
The logo which features on the DVD box, painted by Zephyr, Revolt, and Sharp is still displayed on the same wall in the Bronx.
Fab Five Freddy also appeared in Downtown 81 and New Jack City.
FACT BOX: BREAKIN'
Jan Claude Van Damme appears in a blink and you miss it performance, his first movie role.
The film also features the movie debut of Ice-T with Reckless, some distance from his infamous Cop Killer.
Adolfo Quiñones made his TV debut on Soul Train, and went on to choreograph shows for Madonna.
Director Joel Silburg shot Rappin' a year later, reemploying Ice T and casting Mario van Peebles in the title role.
Lucinda Dickey is currently appearing as a judge in Master's of Dance on American TV.
First appeared in Clash #37