First published in Clash magazine.
Over the course of the 1960s, the New Hollywood brought two revolutions to the movie business. The first was one of marketing, production and aesthetics, epitomized in the work of directors such as George Lucas, Francis Ford Coppola and Martin Scorsese. The second occurred in sound, with pioneering figures Ben Burtt, Randy Thom and Walter Murch having changed the way we hear film forever. 
"Sound design can help determine the overall feel for the project, and accentuate the mood and tone of a film, where often its much cheaper to build tension through sound than visual effects," says Greg Hedgepath, down the line from a dubbing theatre in Los Angeles. "I worked on a scene in the crime thriller Out of Time where Denzel Washington was waiting for a fax which would implicate his character in a murder. As the scene developed, the pace of the visual editing quickened, and to reinforce this we took the both the sound of the fax ringing, and of its paper feed mechanism. Each time the machine cycled a piece of paper, we added a little more of this mechanical sound and faded down the dialogue in the mix, while we increased the volume of the machine's inner workings. All of this was taking place off-screen, but the sound design really helped ramp up the intensity; as though his character was completely focused on the contents of this fax."
"The sound supervisor is involved from start to finish in sculpting the sound of a film," he adds. "We'll make sure the dialogue is synched properly before starting work on what we refer to as the background. I like to build those up layer by layer, adding lots individual elements, or sweeteners, which could be something like traffic noise, the sound of bird song, a bicycle bell, voices, dog barks or the ringing of a church bell half a mile away; the purpose of these is to help convey the space that the film is living in. After that, I will focus in on the sound design – listening to every door which closes and phone that's picked up in the movie. All of these sounds assist in making the film feel like it exists in a real space and, when it comes to the mix, we try to ensure that we are taking the film in the direction that was originally intended."
Greg's career began in public radio, moving on to a seven year stint at the legendary Lucasfilm before becoming employed by Danetracks, a leading sound studio managed by Dane Davis, Oscar winning sound designer for The Matrix series. Hedgepath is the individual behind the sound of Straight Outta Compton, Selma, Frozen and The Hunger Games, and was also responsible for the sound on The Incredible Hulk.
"We were fortunate with The Incredible Hulk to be involved right at the start of the project," he explains. "The early involvement of the sound designer is quite common with lower budget productions, but not so typical with big budget films and it came about on this movie as we'd worked previously with the producers on Aeon Flux. We were involved in recording some of the backgrounds for scenes in Rio de Janeiro, and began to design our sound for the film when they started shooting. The production would send us stills at first and pieces of scenes they had cut later one, which we work and send on to them wherever they were; whether that was Canada, New York, Rio or LA. As the film progressed, we started receiving rough renderings of visual effects, and as they refined those we adapt our sound design."
"This can be much more economical for the studio with films where there are a lot of visual effects, as a lot can be worked out between the sound and visual effects teams before anything has been shot. In The Incredible Hulk, a key scene occurs in a bottling plant. The production had sent over a photograph of a working portion of the plant that they were assembling in a pretty decrepit warehouse space. From that single still, my colleague Eric Lindemann and I were able to start figuring out what that environment would sound like. We recorded a lot of sounds of bottles going over rollers, the sound of industrial machinery, glasses clinking and breaking, and we also spent some time recording puffs of steam, which became a key component of the final piece. When characters were introduced, we had a sense of where they would be interacting with Hulk through the movement of the camera, which grew more advanced when elements of CGI was introduced, at which point we started working on footsteps, the sound of gunfire, and the Hulk himself. As an example of how the two effects teams work together, we asked if the visual effects crew could accentuate certain motions in order to make the Hulk more dynamic. In the film, when the Hulk roars, he rears back and tenses his muscles a little as he breathes in and, through this, we were able to put a bigger roar in his mouth."
"In another scene, there are a number of military vehicles, but we felt the production sound didn't give much of an impression of speed or power. We had recordings of some Humvees in our library, but these didn't seem loud enough either. Eventually, we tracked down a guy with a souped up diesel truck, which had a lot of midrange growl – and persuaded him to take it out into the desert in order to recorde. That kind of foley recording can be a lot of fun and also quite challenging, and in the film there were a few sounds we really struggled with. One is where the Hulk tears up some metal military gear – we just couldn't find the right noises. Later on, we were in Eric's garage and he stepped on a metal plate which sat over the sump pump. It sounded amazing, so we dragged over a fifty gallon drum and started hitting it with a pipe – those are the sounds that appeared in the movie."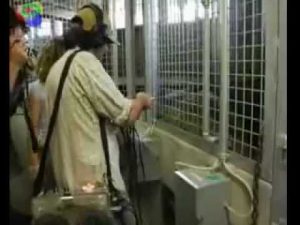 This work on effects prompted Amon Tobin's Foley Room album, as he explains. "I had begun to notice that the movies which left the biggest impact for me in terms of the score were actually quite sparse on music and more focused on sound design, and wanted to explore the idea of making music based on the kind of techniques and equipment more closely associated with foley and field recordings as the basis of my raw material, which I'd then process as samples. We explored a range of sound sources from visiting factories with large conveyor belts and furnaces, and a CD pressing plant with lots of robotic arms and presses, and got to go back stage at a safari park to get up close to various creatures including tigers and hyenas, and took a couple of shotgun mikes for the animals we couldn't get so close to. We also visited a few really weird places; a space research facility, a motorbike dealer, and took insects into a very controlled environment and amplified them – at one point we brought in a wasps nest which I'd pried from the wall at my house. There was a real sifting for gold quality to it which appealed to me in a similar way that digging for vinyl did; something exciting about tuning in to the world around you and taking nothing for granted."
"When I was eight years old I told my mother I wanted to be a record producer," admits Greg. "I didn't really know what that involved, but when my friends were talking about sports, I'd be talking about the sound a bass player on some old Motown record or what the horns sounded like – they'd look at me like I was nuts. When you get to a certain level in sound design, you're fortunate to end up around similar people with similar interests. At Danetracks, we can talk about geeky sound things over lunch, and no one here thinks that's crazy."
FACT BOX: GREG HEDGEPATH, ON WALTER MURCH
"The film that really made me listen to sound design was Apocalypse Now, which is a tribute to the sound designer and editor Walter Murch. There is a scene where Martin Sheen's character is sat on a floor, with helicopter blades which circle around the room very slowly – I'd never heard anything like that, and it just blew my mind. It was one of the first films to use surround technology, and from that moment to this I still think of that film. As soon as I had the opportunity to work with a film where stereo effects were involved – which for me was Desperado – was when I started editing."
FACT BOX: GREG HEDGEPATH, ON HIMSELF
One of my favourite experiences was on a movie called Roll Bounce. The film was about roller skating and the director, Malcolm Lee, was very detail orientated and concerned about the sound of the skates, so we rented out a roller rink for several days, and set up a big sound rig. I was sliding around this rink in my socks, trying to capture the skaters with my microphone. I'd hired an editor who was also a drummer, and he helped me synch each hit of the skates to the music. That, together with the five channel recording of crowds yelling and chanting in the rink, totally filled up the room and when Malcolm heard it, he flipped out – totally loved it, and it was really satisfying to see a director so happy."