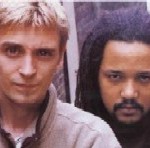 Drum and bass is undergoing its second revolution. Unlike the first, when the music shed the trappings of hardcore to become a form in itself, this latest uprising is more elusive – straying far beyond the unspoken borders of tempo and style dynamics which have acted to handicap the movement. Leading the charge are the sonic revolutionaries of Dollis Hill, 4 Hero's Dego and fellow enforcers Alpha Omega, Sonar Circle and Seiji chancing across a whole new (sector) movement, 'broken beat' having been uncovered in their forages within the house and techno undergrowth.
A revolution of course is far more than just a single camp of abstract heads, and it is the involvement of producers as disparate as they are unlikely which has injected enough momentum to instigate this change. Restless house has been emerging from the studios of Photek, Total Science and Hidden Agenda while Danny Breaks has proved the link to hip hop can be so much more sublime than the jump up, time stretched vocals to which we've become accustomed. The dancefloor is also shedding its boom-clack skin. The considerable inroads that Shy FX has made within randb production now shines through in the ultra slick acetates of "Everything" and "Shake It", the first cuts to surface from his forthcoming album.
"We are predominately drum and bass – but it's cool that the other stuff is getting noticed," opens Hype. Noticed indeed, with Zinc's "138 Trek" breaking into the UK singles chart last October. "It wasn't a conscious decision where we sat around thinking we'd get into other forms of music, more a result of the artists at the label putting together extended players and having the opportunity to release a track which wasn't running at 130bpm. I've never liked to be pigeonholed and we have always just done what we do – we're not dissing anybody and if we're making good music, what's the problem?"
Andre Shy echoes Hype's thinking, "I find it hard to focus on just one form of music and keep myself busy by doing a few bits of other stuff. My way into the randb scene came from me having done a couple of drum and bass remixes, where I'd return an randb mix along with it. People were feeling it and I met Gary Paul through a few projects I'd done under an alias, I asked him if we wanted to get involved with something a little bit different and he was more than up for it."
Elsewhere, über-dancefloor warriors Bad Company are in the throws of establishing a deep house label while both Hype and Zinc have recently spun new imprints Bingo and Naughty out from True Playaz in response to the substantial success of their breakbeat releases.
Perhaps more surprising still is news of Dillinja and Lemon D hooking up with South London garage producer El B for a joint outing on their soon-come Threshold imprint. "Threshold came about as an outlet for slower material – people are calling the debut release from Jekyll and Hyde garage, but for me it sounds like slowed down drum and bass!" says Dillinja. "On the drum and bass side, I think that the techno influence became too dominant over the last couple of years, the blame for which can be laid at the speed of the music. It's a gradual thing from DJ's pushing records a little faster on the turntables but has crept to the point where the grooves are limited and melody has gone out of the window, which is inherent to how hard the music has become. My music will be getting noticeably slower over the next few months."
"There are no barriers," says Nicky Blackmarket, from his West London record store where a recent refurbishment has seen the two-step garage shift downstairs with the drum and bass. "This music goes full cycle all of the time, whether Zinc is killing it with the breaks thing or J Majik or Shy are bringing different styles back into it – it's all healthy."
Doc Scott, whose 31 Records is widely credited as the first label to incorporate a house feel to their music with the release of his own "Liquid Fingers" and Marcus Intallex & ST Files "How You Make Me Feel," agrees. "For me the most important thing in drum and bass will always be evolution but a couple of years ago I felt that the music was taking itself down a blind alley, where new producers felt the way forward was to copy the people they perceived to be the leading artists. I wanted to make a statement of how I was feeling about the music and the Marcus tune in particular struck me as something that the scene really needed expressing my belief that tracks didn't have to be raging to make an impact with a crowd."
"There were certainly too many imitators and not enough creators," adds Aquasky's Brent, laughing. "People like Bad Company and Optical went all out to progress the music with what they were doing, which I think they certainly achieved, but the scene was quickly awash with similar sounding records and subsequently the press decided to tear strips out of the whole genre for being too dark and formulated."
Watford's J Majik leapfrogged the instigators of the house influence through bringing the feel and production ethos into fully-fledged drum and bass tracks, without borrowing so heavily from recognisable classics. While an inspirational remix of "Space Invaderz' from Hatiras set the agenda, it was the phenomenal success of the subsequent "Love Is Not A Game" that fulfilled this original premise, the Kathy Brown vocalled masterwork crashing into the national 40 back in April.
"I never set out to fuse house with drum and bass, it was more an accident," explains Jamie from his home in Watford. "With "Space Invaderz," I'd put the original on the turntable at the wrong speed, and was mixing it with a drum and bass tune. It sounded pretty good and I asked Simon Dunmore at the label whether he could get me the samples so I could have a crack at a little remix – more an unofficial bootleg than anything else."
The Kathy Brown track was a little more considered. "Essentially I'd been working on a track at the time using a loop from an old seventies tune, I'd tried a few filters on it and found it carried that same energy and production sound which a lot of the house producers use, which all kind of tied in with the vocal I had from Kathy. Once her vocal was on there, I think that it had a similar effect to Robert Owens working with Photek, in that both he and Kathy have very distinctive voices where you immediately think of house music when they sing. She has that whole Masters of Work history as well as having worked with a lot of big disco garage producers and I think she really stamped all of that on the track."
Photek took a step further still; with his second album for Virgin some distance from the technical clicks and cuts of his Modus Operandi debut. "A lot changed in those four years, both musically and in my life," says Rupert Parkes. "The initial intention was to try and remember what prompted me to start making music in the first place, taking my cue from some of my favourite records – Ron Trent's "Altered States," "Dead Eye" by Baby Ford, "Evolution" from Carl Craig. Of course I had moments where I'd worry about what people would think or my own questioning of what I was making but kept coming back to it all just being music – who cares?"
"There seems to be quite a militant core of die-hards who treat drum and bass more as a religious crusade rather than what it actually is, which is dance music when all is said and done," says Chris Marigold of Blu Mar Ten, who have recently inked deals with US house imprint Guidance, supplementing acclaim raised in releases for Rennie Pilgrim's TCR and Danny Macmillan's In Flight Entertainment.
Studio partner Leo Wyndham picks up the baton, "We never really saw ourselves as drum and bass producers, just producers. By its nature drum and bass is made up of a lot of other different things and, because of that, the lessons the music has taught producers are applicable everywhere."
"We suffer from so many genre and sub-genre that it's easy to become lost trying to work out what's what." says Hospital's Chris Goss, "The last track we made was 116 beats per minute; before that it was 86 and previously 123 – perhaps numbers are the way forward in describing musical styles? We started the Out Patient compilations as a showcase for styles other than drum and bass but let's get something straight – we don't make these albums because we can't sell dandb anymore – more the opposite in that we're enjoying ourselves, sales are up and so we're pushing forward in more directions."
These thoughts are echoed by Hidden Agenda's Mark Goodings, whose Zest label have offered up a series of simmering twelves where space funk has been the watchword. "It's just a tempo! Jason and I didn't make a conscious shift to other material as we've always made a variety of styles and our 'drum and bass' productions are just Hidden Agenda at 170 bpm."
As artists like Kosheen proved that remixes could act as the key to unlock new audiences to drum and bass material; from the slowed down breaks of Total Science, Klute's forages into techno right through to the mesmerising soul of 4 Hero; fusion is the common factor.
Mark Mac puts the differing sound of 4 Hero down to taking a subjective view. "When we started making this music it was nameless. It wasn't just about a scene or the barriers around it, but something much wider that concentrated on experimentation. The bottom line is we have reached a stage where everybody is able to make a record and you have to be critical to understand whether someone is just a clever programmer or if they truly have soul. I could give anybody four samples, show them how to put it together and they could come out with a drum and bass track but we have always strived to achieve more than that."
Bad Company's Dan Stein shares these thoughts, "We all have ideas of what we can do that hasn't been done before and the respective popularity of artists like the Prodigy and the Chemical Brothers have demonstrated there is a gap to be filled. When it comes to breaking musical boundaries, drum and bass is at the frontline on the tech-music battlefield and we are amongst its units. Although we've seen some flak the tracks we've made to date are just waypoints in the evolution of what we're doing."
Chris Goss provides the final thought, "Ultimately, we want to make soul music. We could be trying to nail a bassline for a jump-up cut and find ourselves shaping some chords that would make a killer deep-house tune, or perhaps people are confused by a horn section or stand up bassline. I just think it pays to try and extend yourself creatively, where new ideas and angles developed on particular tracks can lay foundations for something quite different, but always complimentary."