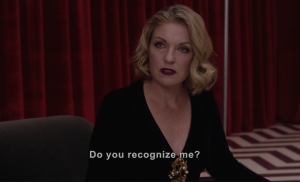 Having published a chapter on Twin Peaks: The Return earier in the year, in Critical Essays in Twin Peaks, my co-writer Rupert Loydell and I developed a second paper that we delivered at a couple of conferences in 2018 and 2019.
In the course of these conferences, we found a second  publisher and have since delivered a new chapter on the series. Sound Design, Music and The Birth of Evil in Twin Peaks: The Return is due for publication by Routledge in 2020, in an edited collection called Listen To The Sounds: Music and Sound Design in Twin Peaks, edited by Reba Wissner and Katherine Reed.
In the Chapter, we explore how Lynch makes use of intricate sound design, score, existing source music and music performed within the diegesis to articulate and distinguish the real world geography from the supernatural spaces of the series, and how sonically distinct liminal spaces connect these within a rhizomic narrative. We examine how the series as a whole makes use of intertextual connections to conventional and experimental film form and how a complex relationship between sound and visuals – and the manipulation of these media – lends an otherworldly quality to The Return and allows the series to further extend established Lynchian worlds.