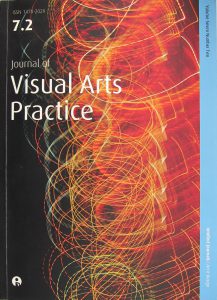 Two years after we presented our paper at the Music and Moving Image conference in New York, the Journal of Visual Arts Practice have accepted my collaborative work with Rupert Loydell which examines Brian Eno's visual arts apps and approaches to music and studio practice – "Thinking Inside the Box: Brian Eno, Music, Movement and Light."
Abstract:
'In total darkness, or in a very large room, very quietly' (Eno & Schmidt, 1979)
It is time for a reconsideration of Eno's visual projects. This article considers how Eno has used simple but innovative ideas, programmes and processes to inform his films, apps and installation work, and how they have been disseminated. Avoiding spectacle, noise and complexity, Eno and his collaborators, has produced an array of intriguing and engaging art works. In T. The New York Times Style Magazine, Eno stated that he 'was trying to make visual art become more like music, in that it changed the way music changes' (2013).
Collaborators Kingsley Marshall and Rupert Loydell use remix, juxtaposition and creative writing, along with more traditional research methods, to cast light onto the ways in which appropriation, process and collaboration have informed Eno's creative output. They use Eno's words, drawn from interviews and his own writing, along with critiques of his work, and writing by those who have inspired him, to consider how Eno creates his quiet rooms and visual music. Each consecutive response here was dictated by the turn of a card selected from the third edition of the Oblique Strategies deck issued in 1979.